Christian advocacy groups estimate more than 200 million believers — 10 percent of the global Christian population — are currently experiencing high or extreme levels of persecution.
If there is one thing this statistic proves, it is that persecution is normal for millions of believers around the world who, without fear or falter, obey Jesus' command to "go into all the world."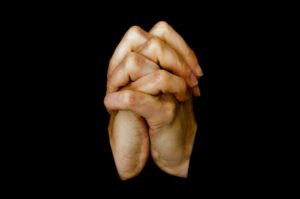 It may seem insignificant then, in light of such sobering statistics, to observe the International Day of Prayer (IDOP) for the Persecuted Church this Sunday, November 5. What, after all, can prayer do to help the immediate needs of the millions actively oppressed for their faith?
The answer is everything.
Despite a society that has created an international day of observance for just about anything, prayer for the Church is far from a cliché. The need to intercede for our brothers and sisters around the world who are suffering for the name of Christ cannot be emphasized enough.
For Christians living in areas where faith costs everything, prayer is the life force of their ministry. How can we not participate with our brothers and sisters in their suffering by regularly and faithfully lifting them up in prayer so the Gospel may go forth boldly, even under chains?
In the words of early Christian author Tertullian, "the blood of the martyrs is the seed of the church."
And so, we pray. We pray for protection and for deliverance. But more so than safety, we pray for boldness and fearlessness as Paul did in Ephesians 6:19-20:
"Pray also for me, that whenever I open my mouth, words may be given me so that I will fearlessly make known the mystery of the gospel, for which I am an ambassador in chains. Pray that I may declare it fearlessly, as I should."
Reading stories from various persecuted pastors and Christians during my time at Levant Ministries, a single thread of commonality holds each testimony together: prayer is the number one request of the persecuted Christian.
They ask for us to join them in prayer for strength and for perseverance so that, despite difficult trials, Christians will continue to share the Gospel in the most dangerous of environments around the world. And as we pray for our persecuted brothers and sisters, we must also remember Jesus' call to pray for the persecutors, remembering that some who are persecutors today will become witnesses for Christ and prisoners for His name tomorrow.
We must all read and remember Revelation 2:10:
"Do not be afraid of what you are about to suffer… Be faithful, even to the point of death, and I will give you life as your victor's crown."
Be faithful unto death.
Suffering is one of God's ordained means for the growth of his church. He brought salvation to the world through Christ, our suffering Savior, and he now spreads salvation in the world through Christians as suffering saints. In the words of Paul, "All who desire to live a godly life in Christ Jesus will be persecuted" (2 Timothy 3:12).
But those who go don't go alone. They go with a cloud of witnesses who have gone before them, and with a body of believers alive today who refuse to live in silence and who understand that as a body "if one part suffers, every part suffers with it; if one part is honored, every part rejoices with it" (1 Corinthians 12:26).
Nik Ripken documents a convicting exchange in his book The Insanity of God. While speaking with a persecuted member of the body of Christ, he is told:
"I took great joy that I was suffering in my country so that you could be free to witness in your country… Don't you ever give up in freedom what we would never give up in persecution — and that is our witness to the power of the resurrection of Jesus Christ!"
This is why the Church stands together. We do it to exclaim, whether in persecution or in freedom, that Jesus Christ is the hope of the world.
And yes, we do it regularly and we pray at all times. But for one day, the global Church stands united to declare "we will obey, no matter the consequences" and "we will share in the suffering of believers everywhere."
Stand up this Sunday and pray.
Pray that God would open doors to reveal the mystery of Christ for which so many are imprisoned. Pray that our brothers and sisters would see God's grace as sufficient and God's power perfected in their weakness. Pray that they would love Christ all the more, and rejoice in sharing the sufferings of Jesus. Pray that they will endure, and in doing so that they would love Christ far more than life itself. Pray that they would supernaturally love their enemies and live the joy of the Lord before their persecutors. Pray that they might rejoice to be considered worthy to suffer for His name and keep sight of the future glory that awaits them. And in all of these things, pray that they would learn to more completely trust in God, and to rejoice in bearing the marks of Christ through their persecution.
What a beautiful glimpse of the glory of Heaven we will see this Sunday — millions of faithful believers joining as one to pray for the body of Christ as it reveals the glory of God.