In November 2015, U.S. pastor David Prince was on a trip to Israel and to the West Bank. Following his visit, he wrote a sobering blog post, Pro-Jesus Thoughts about the Israel/Palestinian Conflict, in which he said:
Too often, pro-Israel, pro-Palestinian, pro-peace, or even pro-Jesus descriptors, function merely as shibboleths. This kind of lazy sloganeering does not address any of the real and vital issues. It takes a multilayered complex situation and makes it neat and tidy. Too often this kind of approach is not the fruit of critical thinking and engagement but rather a simplistic way to avoid thinking about the issues. To do so, is an insult to God's image bearers living in the region dealing with the consequences of the decisions that are being made. We must care about human flourishing throughout the world and in God's providence the Middle East has always been an epicenter that inordinately affects the entire global community. Taking "every thought captive to obey Christ" (2 Cor 10:5) demands being informed and takes deliberate prayerful effort.
Pastor David's visit to the Holy Land was organized by the Ethics and Religious Liberty Commission (ERLC) of the Southern Baptist Convention (SBC). It was a tour to equip Southern Baptist pastors and leaders regarding issues in Israel. Pastor Daniel Darling, who also took part in this November visit, wrote on the website of the ERLC that "Christians should be intentional about learning as much as they can about the Middle East." He added:
[Palestinian Christians] are doing daring, difficult ministry among a majority Muslim population. What's more they feel abandoned by American evangelicals. Millions of Christians visit Israel every year to see the Christian pilgrimage sites but don't stop to meet and support their brothers and sisters doing gospel work. This isn't right. This trip has caused me to pray for and support those who are in the trenches of ministry in one of the most difficult regions of the world.
David Platt, president of the SBC's International Mission Board, commented on this new office by stating, "In a land of religious liberty, we have a biblical responsibility to stand up and speak out on [the Christians'] behalf."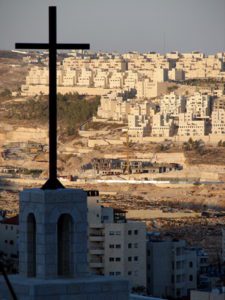 In June 2016 in St. Louis, Missouri, SBC-affiliated church representatives at the annual meeting of the Southern Baptist Convention adopted several breakthrough resolutions, including urging churches to welcome refugees and promoting racial reconciliation. However, when it came to the Middle East, the articles and blogs of David Prince, Daniel Darling and others fell on deaf ears. During SBC's annual meeting, the church representatives voted to adopt a resolution which was deemed by some Arab Baptist leaders as unbiblical and harmful to their peacemaking efforts. The resolution was staunchly pro-Israel, and condemned the "Boycott, Divestment and Sanctions (BDS) Movement."
The BDS movement is a growing rights-based global mobilization that seeks to bring about equality, justice and an end to the occupation of Palestinian territories. In 2009, a group of Palestinian Christian leaders published a document called Kairos. It was endorsed by the leaders of 13 Christian denominations including Greek Orthodox, Roman Catholic, Lutheran and Anglican, referred to "boycott and disinvestment as tools of non-violence for justice, peace and security for all."
This SBC resolution came amid expansion of Israeli settlements, expropriation of Palestinian land, and recent appeals by Palestinian Christians (for example, Bethlehem in Danger! April 22, 2016). This month, Jewish Members of the Knesset unanimously approved a bill that criminalizes any meaningful debate on whether Arab Israeli Christians should join the Israeli military or not. This bill is viewed to be part of a wider set of Israeli policies designed to divide the Palestinian community in Israel along religious lines.
This situation of Palestinian Christians in Israel and in the Occupied Territories was highlighted in 2012 by CBS news' 60 minutes entitled Christians in the Holy Land. The Israeli ambassador to the U.S. had attempted to prevent the show from airing.
Driven by the same concern for religious freedom as the SBC, but in contrast with its actions, the European Baptist Federation expressed concern in September 2015 over the de-funding of Christian schools by the Israeli government, demanding equality with other religious affiliated schools such as Ultra-Orthodox Jewish schools. In 2014, the Baptist World Alliance sent assistance to both Christian and Muslim families in Gaza that were affected by the armed conflict between Israel and Hamas.
Perhaps the ERLC should consider inviting the SBC leadership who recently supported the Israel resolution to visit Israel, Palestine and the Middle East, in pursuit of better understanding of the dynamics of the enduring conflict. Perhaps then they would be further equipped to advocate for religious liberty and social justice, as per the ERLC's mission, and to fulfill the peacemaking role Christ has called us to in Israel/Palestine in the same way they are seeking to fulfill that role when it comes to racial reconciliation in the U.S.
As respect of human rights and fundamental freedoms erodes globally and in the Arab world, the Body of Christ can play a role to heal and restore justice. In the Middle East, this role begins with listening, visiting, and engaging Arab Christians, and learning.